Developing a plan to reach your target audience, such as customers who may need a new roof, is one of the priorities of your business. There are several channels you can use to reach consumers, such as direct mail, digital marketing, reputation monitoring, and video production. Learn more about these plans and how to find the right strategy for your roofing business.
Best Ways To Market Your Roofing Business
1. Direct Mail
Using mail is one of the most direct ways you can reach consumers. By completing a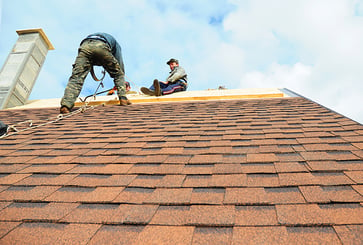 mailing area analysis, you can pinpoint consumers who are most likely to use your business and send mail to their mailboxes. With this channel, you can target high-income areas with custom flyers that are eye-catching, colorful, and customized to your business.
2. Digital Marketing
Going online is another way you can advertise your business directly to consumers who are looking for roofing services. For example, you can get your business at the top of Google search results by implementing SEO strategies. You can also put your business on social media to take advantage of social media advertising, backlinks to your website, and much more.
Because digital strategies are so diverse, you can easily tailor this method to the scale of your business and alter your digital channels as your business grows. This can also be the most cost-effective method if you're trying to grow a small business.
3. Reputation Monitoring
Your brand is one of the most fundamental parts of your business, so it's important to make sure consumers have a positive impression about your business. Because consumers place so much importance on online reviews, it's essential that your business has good reviews. By monitoring what people are saying about your business, you can make changes to stay competitive and keep your business more prominent in online searches.
4. Video Production
Most advertising experts agree that graphic or pictorial clips are the single most efficient way to convert and attract consumers. By using visual production, you can create custom clips to embed into your website or social media page. This can funnel consumers to your business, while also leaving a positive impression of your company. Clips can be short, humorous, educational, or seasonal to attract new customers.
Which Strategy Is Best?
Pinpointing the advertising method that is most effective for your business will depend on your business goals. If you want to attract new customers to your roofing business or generate more leads, using digital campaigns and traditional mail can be very effective. On the other hand, if you want to stand out from the competition, then using graphic clips or monitoring the impression customers have about your business can be a better option.
When it comes to advertising your roofing business, there are several methods you can use to make sure you are attracting consumers. Whether you are going old school with traditional mail or you want to use short-and-snappy online clips, there is an advertising method that is ideal for your business. Explore unique marketing solutions when you get in touch with Avanti Vision today,