Whether you are a business owner or the marketing director for your employer, you know that your company's website is important for lots of reasons: to have an online presence, to provide information and demonstrate your expertise in your particular industry, and to secure new and repeat business. While these reasons for creating and maintaining an engaging, informative, and effective website are all indisputable, how you choose to present content and information on your website is debatable. However, some Philadelphia SEO Companies won't agree; they'll swear there's only one way to present your information and market your company online. What's worse, the reasons many of the Philadelphia SEO Companies give for insisting you use SEO content only are downright lies.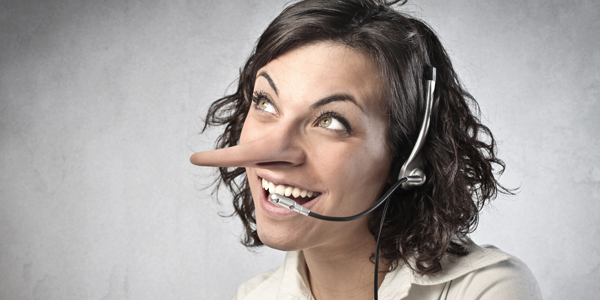 Philadelphia SEO Companies
Here's a look at 7 of them:
#1

"SEO will grow your business."
While an SEO company can certainly help drive traffic to your website by creating SEO-keyword-rich blogs and content, simply getting more visitors to your website does not guarantee your business will grow. 500 visitor a day doesn't necessarily equal 500 new customers. Creating effective sales funnels and transforming those visitors into customers is an art and science in and of itself. If a SEO company you are considering hiring guarantees increased business (vs. web traffic) solely by creating SEO-keyword content for your website, they're lying.
#2 "SEO is the (only) way of the future."
While creating SEO content is indeed a powerful tool for inbound internet marketing, it's not the only way, it's not the best way, and it's not the single path to the future of internet marketing. Both persona-based content marketing and incorporating the use of videos on your website are two ideal and leading ways to help ensure your website is monetized. Persona-based marketing demands that you identify and speak to your ideal customer; that persona will be who you direct your marketing efforts toward. Incorporating high-end, professional videos on your website enables you to garner the attention of your perfect client via creative and engaging videos, vs. just another blog.
#3 "SEO will solve all of your problems."
Your marketing arsenal needs to include other effective tools beyond just SEO-keyword-rich blogs. While Philadelphia SEO companies will tell you SEO will solve all your problems, they're lying. Beyond SEO blogs, your inbound marketing strategy needs to also include 2D/3D motion graphics, videos, a call to action on every landing page, and lots of other marketing components. One creative tool alone does address and solve all your problems.
#4 "Black Hat Techniques Are Quick, Easy, and Great Ways to Monetize your Website."
While black hat techniques are quick and easy ways to add SEO content pieces to your website since they are written purposefully for the non-human search engine vs. an actual potential customer, they're not a great way to market your website. In fact, they're damaging. Your website could be permanently banned from the search engines if you stuff your blogs with overused keywords, add unrelated words to a blog to rank higher in the search engines, use invisible text, or change the content of the blog entirely once the visitor has clicked on the title. Purchasing these cheap inorganic SEO marketing techniques will waste time, cost more money in the long run, and taint your reputation online.
#5 "We will make your website rank #1 for a keyword in 3 months, or your money back."
While initially this seems like a great offer, those 90 days you are adding ineffective content to your website are not only wasting opportunities to make that great first impression with visitors so that they return, but what Philadelphia SEO companies don't tell you is they're going to pick the least-likely used keyword for your site because it's easier for them and will help your website rank higher ~ for that hardly-ever-sought-after keyword. What's important is that your website ranks for keywords that your potential customers ~ your identified personas ~ are seeking.
#6 "There's nothing to lose by trying our SEO company."
If you don't perform your due diligence to make sure the SEO company doesn't use black hat tactics, to get references from past and current satisfied clients, and to see exactly the types of keywords the company intends to use for your particular business, don't believe their lies. You truly only get one chance to establish that first impression for that first-time visitor ~ so you have everything to lose if that first visitor is not well planned for.
#7 "Great content alone will rank you highly."
While well-written, engaging, and relevant content is always better than sloppy, poorly-written blogs on your website, great content alone does not ensure your website soars to #1 on search engines. Your site not only needs other marketing tools, but also an updated and excellent foundation on which to build your marketing strategies.